Dance Specialty: Hip Hop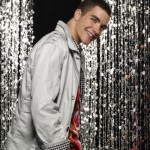 Hometown: Buffalo, NY
Currently Resides: Buffalo, NY
Age: 28
Tony has been dancing for most of his life. He is a graduate of Frontier High School, and played on the school's soccer, football and lacrosse teams. He likes to write short stories and poems, and his favorite professional dancer is Barry Lather. He finds inspiration working with children in a local pre-school and mentoring young kids between the ages of 6-12 in an after school program.
Born on April 17, 1989, Tony is a hip-hop dancer from Buffalo, New York.
His comedic solo in Vegas earned him a following, but the judges put him through into the top 20. During the Top 20 competition, he and his partner Paris Torres were eliminated following a hip-hop routine. The judges agreed that in the performance Tony's personality wasn't aggressive, which it needed to be for the dance.