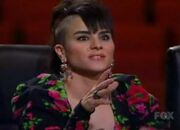 Dance Specialization: Contemporary/Jazz
Hometown: Detroit, MI
Current Residence: Los Angeles, CA
Sonya Tayeh (born in Brooklyn, New York) is an American dancer and choreographer. Raised in Detroit, Michigan, the home of Motown and Techno music. Tayeh listened, analyzed and felt music as a young child, solidifying her interest in dance. By the age of 17, she realized her dream of becoming a dancer and attended Wayne State University, where she studied dance history, anatomy, and performance. In 2005, Sonya received her Bachelor's of Fine Arts in Dance and relocated to Los Angeles to further pursue her goals.
Tayeh joined SYTUCD in Season 4 as a guest judge and choreographer, teaching combat jazz and contemporary routines and has appeared on the show's last three seasons, including the current Season 7 All Star SYTYCD. Sonya currently teaches at Edge Performing Arts School and Loyola Marymount University in Los Angeles. She has recently choreographed a promo for Dancing with the Stars and still travels worldwide teaching workshops, intensive master classes, and setting works. Sonya has worked with artists such as Kerli, Beat Freaks, Tabitha and Napoleon D'umo, and many more.
Ad blocker interference detected!
Wikia is a free-to-use site that makes money from advertising. We have a modified experience for viewers using ad blockers

Wikia is not accessible if you've made further modifications. Remove the custom ad blocker rule(s) and the page will load as expected.