Dance Specialty: Jazz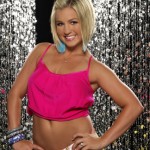 Hometown: Orem, UT
Currently Resides: Springville, UT
Age: 23
Randi began dancing at an early age and performed in the closing ceremonies at the 2002 Salt Lake City Winter Olympic Games. She currently attends Utah Valley University where she is majoring in elementary education.
Randi is partnered with Evan Kasprzak. She is married, which has become a source of teasing, as a number of their routines have been sensual in nature. In Vegas she was noted for always wearing unitards, but has not been seen wearing them since she got into the top 20—despite wearing a shirt to a rehearsal that said "Unitard Girl". Randi was eliminated in week 7 of the competition along with Kupono Aweau.
Ad blocker interference detected!
Wikia is a free-to-use site that makes money from advertising. We have a modified experience for viewers using ad blockers

Wikia is not accessible if you've made further modifications. Remove the custom ad blocker rule(s) and the page will load as expected.