Logan Hernandez is a contestant on season 14 of So You Think You Can Dance. His genre is Contemporary.
Biography
Edit
So You Think You Can DanceEdit
Logan first auditioned for season 14. After making it to the academy, he performed a stunning solo to "Palk" by Domenico Sciajno & Thomas Lehn for the All-Stars. After a captivating performance, All-Stars Jenna, Allison, and Robert each offered Logan a spot on their team. Logan chose Allison and flew through all choreography rounds to land the position as Allison's partner in the top 10.
Main article: Season 14 performances
Top 10 Perform
Edit
During the second live episode of the season (The Top 10 Perform Part 2), the first to end in elimination, Logan was surprisingly placed in the bottom 3. However, the judges were blown away by his dance capabilities and so impressed with his performance that he was immediately saved. America's votes were enough to keep him out of the bottom the following week.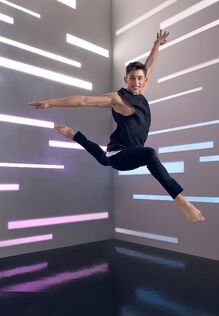 Ad blocker interference detected!
Wikia is a free-to-use site that makes money from advertising. We have a modified experience for viewers using ad blockers

Wikia is not accessible if you've made further modifications. Remove the custom ad blocker rule(s) and the page will load as expected.