Occupation: Choreographer/Guest Judge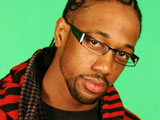 Dance Style: Krumping, Hip-Hop
Hometown: Los Angeles, CA
Current Residence:
Christopher "Lil' C" Aaron Toler (born January 19, 1983) is an American dancer and choreographer from L.A. best-known for co-inventing the hip-hop dance style krumping. In 2005 he appeared as himself in the krumping documentary Rize. Since appearing in the film, he has danced for several musical artists, including Missy Elliott, Fall Out Boy, and Madonna, and was cast as a featured dancer in the 2007 art exhibit Slow Dancing.
Lil' C has appeared in music videos other for artists such as Jennifer Lopez, Ciara, Missy Elliott, Christina Millian, Sean Paul, Fall Out Boy, Gwen Stefani, Se7en, and Madonna. His television and movie credits include choreographing for Be Cool, Fox's Bones, the 2007 Teen Choice Awards, the 2007 NAACP Image Awards, and Bring It On Again. Lil C has also worked for shows such as The 50th Annual Grammy Awards, VH1 Big in 06 Awards, and the 2005 American Music Awards. He can be seen in Stomp the Yard as a dancer.
Since 2006, Lil' C has been a judge and choreographer on the Fox reality dance competition So You Think You Can Dance. His critiques on the show are characterized as being winding, elaborate, and verbose analysis of the dancers' performances. He choreographed one dance routine in Season 2, Season 4 and Season 6, and two routines in Season 3. Although he did not choreograph any dance numbers in Season 5, he did serve as a guest judge.
In 2008, he choreographed two routines for the first season of So You Think You Can Dance Canada. He returned to Canada in 2009 and choreographed another routine for the second season. He then went back to Los Angeles to serve as a guest judge and choreographer on the sixth season of the U.S. version of So You Think You Can Dance.