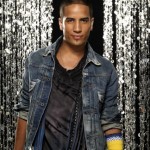 Dance Specialty: Lyrical/Contemporary
Hometown: Honolulu, HI
Currently Resides: Kailua, HI
Age: 23
Kupono graduated from the Kamehameha Schools and has been dancing since he was 16 years old. He loves his home state of Hawaii, and is an avid collector of home furnishings.
Kupono is a contemporary dancer from Kailua, Hawaii. He was originally partnered with Ashley Valerio, but following her elimination in week two his new partner became contemporary dancer Kayla Radomski. He is often compared to Season 4 finalist Mark Kanemura for three reasons; (1) they're both from Hawaii (2) they have very similar dancing styles and (3) they are rumored to both dance with fire. Kupono made it to the top ten but was eliminated in week 7 of the competition along with Randi Evans.
Ad blocker interference detected!
Wikia is a free-to-use site that makes money from advertising. We have a modified experience for viewers using ad blockers

Wikia is not accessible if you've made further modifications. Remove the custom ad blocker rule(s) and the page will load as expected.