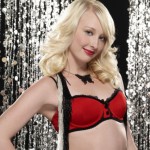 Dance Specialty: Jazz/Contemporary
Hometown: Aurora, CO
Currently Resides: Aurora, CO
Age: 18
Kayla has been dancing for most of her life, and participating in SO YOU THINK YOU CAN DANCE is one of her most rewarding experiences. She is grateful to her amazing mother who has supported her love of dance for so many years. Kayla also enjoys acting and singing.
Kayla is a Contemporary/Jazz dancer from Aurora, Colorado. She was partnered with latin/ballroom dancer Max Kapitannikov before he was eliminated in week 2. So, she became partnered with contemporary dancer Kūpono. Kayla has been on one of the main judge's, Mary Murphy's, "Hot Tamale" train for six out of six consecutive dances (Samba, Pop-jazz, Viennese Waltz x2, Contemporary and Broadway).
She made it all the way to the finale, finishing in fourth place. After Jeanine Mason was announced the winner and the confetti fell, Kayla could be seen in the background talking to choreographer Tyce Diorio.
Ad blocker interference detected!
Wikia is a free-to-use site that makes money from advertising. We have a modified experience for viewers using ad blockers

Wikia is not accessible if you've made further modifications. Remove the custom ad blocker rule(s) and the page will load as expected.