Janelle Issis
Season
Season 9
Hometown
Vestavia Hills, Alabama
So You Think You Can Dance Profile
Partner(s)
Dareian Kujawa
Placement
Top 14
All-Star Profile
Janelle Jalila Issis
was a contestant on
Season 9
of
So You Think You Can Dance
. Her genre is belly dancing. She was eliminated on August 15, 2012.
You can find her updated material, tour schedule, choreography, etc at JanelleIssis.com.
Biography
Edit
Janelle first started dancing and performing at the age of 4. She is extensively trained in belly dancing, jazz, and tap and continued to study a multitude of dance styles including hip hop, jazz and modern at the University of Alabama under the direction of Professor Cornelius Carter of Alvin Ailey. For several years she has been preparing herself to step into the commercial industry by attending summer classes and events in New York and Los Angeles.
So You Think You Can DanceEdit
Janelle first auditioned for season 9 in Atlanta, Georgia.
Main article: Season 9 performances
Meet the Top 20 (June 27, 2012)
Edit
Janelle is sent in to receive the news of whether she made it to the Top 20 or not. Adam tells her that she should be proud for making it though Vegas Week, being the only belly dancer there. He follows by telling her that she made it through. In celebration, as she was about to exit the room and tell the others she's made it, she hits her head on the side of the door but is alright. Unfortunately, Cat announces that during rehearsals, Janelle fell ill. Even though she was going to be alright, the doctors had told her to sit out the performance, so she didn't dance this week.
Week 1 (July 11, 2012)
Edit
In the package, the dancers must describe themselves in nine seconds. Janelle is paired up with Dareian Kujawa and assigned an African Jazz by Sean Cheesman to "Jungle" by Hilight Tribe. Because of all the injuries she's had, Nigel tells he that if she survives rehearsals on this show, she could do well! Mary says it was exciting and praises Janelle, telling her she's phenomenal and that everything she's done so far on the show has been fantastic. Guest judge Kenny Ortega praises Sean Cheesman for the choreography, and thought it was exciting, cross-cultural, primitive, and universal.
Week 2 (July 18, 2012)
Edit
Janelle and partner Dareian danced a lyrical hip-hop by Christopher Scott to "My Girl" by The Temptations. Guest judge Adam Shankman tells the couple that this kind of choreography is the kind where getting into character is really important, and he thought that Dareian was more successful in selling the character than Janelle. Adam tells her to make sure to work on characterization. Nigel tells the choreographer that it was a bit uninspiring because Dareian and Janelle are both capable of doing more than what Christopher gave them in this routine. Mary tells the pair that she thought it was sweet and they danced it okay.
During the results, Janelle was announced safe due to her African Jazz in Week 1.
Week 3 (July 25, 2012)
Edit
In the package, the dancers must reveal something America doesn't know about their partners. Janelle and partner Dareian danced a cha-cha-cha by Pasha Kovalev to "Call Me Maybe" by Carly Rae Jepsen. Mary praises the couple for the tricks they executed in the routine but tells them that there was no real chemistry between them and criticizes the pair for their rough transitions and feet. Guest judge Christina Applegate tells them she's aware it's not their genres, but they tried their best. She tells Janelle she just sparkles because she's such a beautiful girl with poise. Nigel tells Janelle that she's sexy when she belly dances, but he didn't find her sexy during this cha-cha.
During the results, Janelle was announced safe due to her hip-hop in Week 2.
Week 4 (August 15, 2012)
Edit
In the package, the dancers must share their favorite moments from the show. Janelle shares that her favorite moment was in Season 4 when Chelsie Hightower and Mark Kanemura danced a lyrical hip-hop to "Bleeding Love". This week's theme required dancers to perform past routines by Mia Michaels. Janelle and partner Dareian danced a contemporary to "Dreaming With a Broken Heart", which was originally performed by Kherington Payne and Stephen "tWitch" Boss in Season 4. Guest judge Michael Nunn praises Janelle, but tells her that her hair was a little bit distracting for him. Nigel tells Janelle that she really didn't stand out in the routine. Mary tells Janelle that her hair was blocking her face and she felt that by the end of the routine, it was overacting just a bit.
During the results, Janelle found herself in the Bottom 6. She danced a belly dance to "Inta Omri" by Elie Attieh. After some deliberations, Janelle Issis was eliminated from So You Think You Can Dance.
Post-SYTYCD
Edit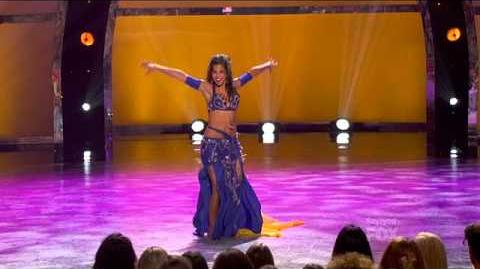 Janelle is the first belly dancer to make it in to the Top 20.
Her favorite color is purple.
She likes to write raps.
External Link
Edit