George Lawrence
Season
Season 9
Hometown
Atlanta, Georgia
So You Think You Can Dance Profile
Partner(s)
Tiffany Maher
Allison Holker (all-star)
Placement
Top 10
All-Star Profile
George "Geo" Lawrence, Jr. was a contestant on season 9 of So You Think You Can Dance. His genre is contemporary. He was eliminated on August 22, 2012.
Biography
Edit
George was born in San Diego and raised in Atlanta. George acquired his love for dance at the age of 11 and was adamant about perfecting his attraction to the art. That same year, he enrolled at Price Performing Arts Center where he studied lyrical, tap, jazz, modern, ballet, hip-hop and acrobatics. In 2010, George decided to further his technique at Dancemakers of Atlanta, and in the summer of 2010 he was selected to attend the coveted Juilliard School. In 2011, he graduated from the esteemed Dekalb School of the Arts in Atlanta with honors.
So You Think You Can DanceEdit
George first auditioned for season 9 in Atlanta, Georgia.
Main article: Season 9 performances
Meet the Top 20 (June 27, 2012)
Edit
George is the second to get the news whether he's in the Top 20 or not. The judges tell him he makes it through. He dances a contemporary routine with Alexa Anderson, Will Thomas, and Amber Jackson. The piece was danced to "We Found Love" (BBC Radio 1 Live Lounge) by Jessie J. and choreographed by Tyce Diorio. George is praised by Nigel that he shone throughout the dance and makes note to the other dancers in his group that he wants them to shine just as much as George did by the end of the season. Mary also praises him for his leaps. Guest judge Zooey Deschanel praises the group for their teamwork.
Week 1 (July 11, 2012)
Edit
In the package, the dancers must describe themselves in nine seconds. George is paired up with Tiffany Maher and assigned a contemporary by Sonya Tayeh to "Turning Page" by Sleeping At Last. Mary praises them by telling them that they were living every second and completely surrendered themselves to the choreography. Mary tells George that he is a phenomenal dancer and did not disappoint. She proceeds to tell him that he is one of the best dancers this season. Guest judge Kenny Ortega praises Sonya for her choreography. Nigel thought it was a romantic piece and praised the couple.
Week 2 (July 18, 2012)
Edit
George and partner Tiffany danced a foxtrot by Tony Meredith and Melanie LaPatin to "I Want to Be Loved by You" by Sinéad O'Connor. Mary praises the pair, saying that the foxtrot is a difficult ballroom piece because it's so slow and it has specific footwork, and she thought George and Tiffany danced it very well. She praises George for being such a great partner to Tiffany. Guest judge Adam Shankman also praises the couple, telling them that he was "madly in love with that!". It brought him back to everything he loved about the 40's, and that it was so elegant, graceful, and incredible. Nigel tells the two that they make a great partnership and have showed every other couple on the show how to connect with each other and with the audience.
During the results, George was announced safe due to his contemporary in Week 1.
Week 3 (July 25, 2012)
Edit
In the package, the dancers must reveal something America doesn't know about their partners. George and partner Tiffany danced a hip-hop by Tabitha and Napoleon D'umo to "Out of My Mind" by B.o.B ft. Nicki Minaj. Nigel thought the routine was perfect to start out the show but tells George that he looked like he was getting a little tired near the end of the routine. Mary praised the Tabitha and Napoleon for the fitting choreography and also praises George, telling him he hasn't disappointed her yet.
During the results, George found himself in the Bottom 6 due to his foxtrot in Week 2. However, after some deliberation, the judges decided to save him.
Week 4 (August 15, 2012)
Edit
In the package, the dancers must share their favorite moments from the show. George shares that his favorite moment was Wade Robson's "Rama Lama Bang Bang" group routine in Season 2. This week's theme required dancers to perform past routines by Mia Michaels. George and partner Tiffany danced a contemporary to "Hometown Glory", which was originally performed by Katee Shean and Joshua Allen in Season 4. Mary praises the pair, saying it was phenomenal and tells George that he elevated the role in the routine. Guest judge Michael Nunn tells the two that they had fantastic energy. Nigel tells George that he thinks they've seen the best of him with this routine.
During the results, George found himself in the Bottom 6. He danced a contemporary to "So Long, Lonesome" by Explosions In the Sky. After some deliberations, the judges decided to save him from elimination.
Week 5 (August 22, 2012)
Edit
Post-SYTYCD
Edit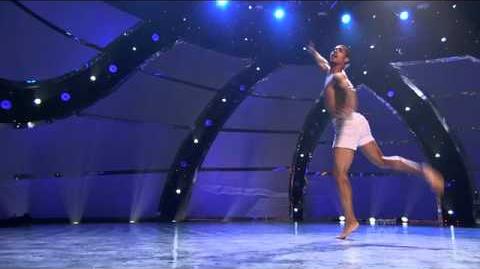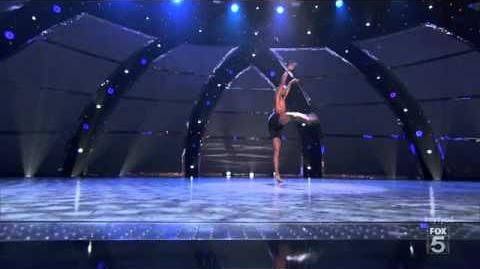 George's favorite color is green.
He hates being outside and is very camera shy.
He used to have a pet frog.
He runs track and in fact, he peed his pants at the sound of the starting pistol during his very first track meet.