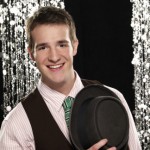 Dance Specialty: Broadway
Hometown: West Bloomfield, MI
Currently Resides: West Bloomfield, MI
Age: 21
Evan graduated from Wylie E. Groves High School and currently attends Illinois Wesleyan University. He has been dancing since he was 6 years old, and his most memorable dance experience was performing in a Gregory Hines tribute with Hines' family in the audience.
Evan is a Broadway dancer from Bloomfield, Michigan. He had auditioned with his brother Ryan and they both made it through Vegas, but Evan was eventually chosen over his brother to compete in the top 20. It has been shown that his brother auditioned for season six and got another ticket to Vegas. He is partnered with Jazz/Contemporary dancer Randi Evans. In 2009, Evan starred in a short film called "After Hours" directed by Jason Eberly and written by Nathan Hartman.
Evan has been noted as being the most "picked-on" by the judges, yet remained the only dancer to have never been voted into the bottom by America. He finished the competition in third place.
Post SYTYCD
Edit
Evan originated and is currently playing the role of Elmer in the musical Newsies, which premiered at the Paper Mill Playhouse in November 2011 and opened on Broadway in March 2012.
Ad blocker interference detected!
Wikia is a free-to-use site that makes money from advertising. We have a modified experience for viewers using ad blockers

Wikia is not accessible if you've made further modifications. Remove the custom ad blocker rule(s) and the page will load as expected.