Dance Specialty: Acro-Contemporary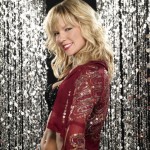 Hometown: Annapolis, MD
Currently Resides: Annapolis, MD
Age: 21
Caitlin graduated from the Baltimore School for the Arts in 2005. She danced at North Carolina Dance Theatre as an apprentice for two years and is an experienced gymnast. After beginning as a competitive gymnast, Kinney found her way to dance though an acrobatics program at "C&C Dance Company". After graduating from Baltimore School for the Arts in 2005, she then joined North Carolina Dance Theater, first as an apprentice then later as a second company member.
Caitlin is an Acro-Contemporary dancer from Annapolis, Maryland. She auditioned with her sister Megan and they both went to Vegas. Her sister was cut while she advanced to the top 20. Her partner is contemporary dancer Jason Glover. Caitlin was eliminated in week five, not making it to the top 10. However, Caitlin is going on tour with the top 10 including Phillip Chbeeb who was also eliminated in week 5.
Ad blocker interference detected!
Wikia is a free-to-use site that makes money from advertising. We have a modified experience for viewers using ad blockers

Wikia is not accessible if you've made further modifications. Remove the custom ad blocker rule(s) and the page will load as expected.