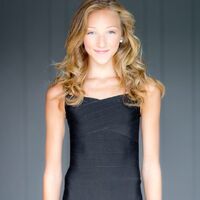 Ava Michelle Cota, born on April 10, 2002 is a dancer who was a part of Lifetime's hit reality show Dance Moms as part of Abby Lee Dance Company's Junior Select Ensemble Team, however she was expelled from the team since episode 26 of Season 4. Outside of Dance Moms she attends JC's Broadway Dance Academy owned by her mother Jeanette Cota in Fenton, Michigan.
Ava made a further appearance in Season 5 of Dance Moms competing with her mother's studio.
In January of this year, Ava auditioned for So You Think You Can Dance: The Next Generation. Her appearances were televised on the show's season premiere. She did not make it past the academy round.
Fun Facts
Edit
Ava competed at 3 different competitions as a member of the Abby Lee Dance Company's junior select ensemble competition team.
Ava competed one solo under the Abby Lee Dance Company name and competed three against the ALDC on the show.
Ava and her mother have been stalking the ALDC at most of their competitions for years, according to the original team's moms.
In reference to the last bullet point, Jeanette recently admitted that she has shown up at a lot of ALDC events and competitions in the past, but only because Abby invited her there.
Ava's solos "Hurtful Words" and "Praying Mantis" are aimed towards Abby. During Ava's time at the ALDC, she was deeply hurt by the things Abby said to her. Abby once called her too tall and said her long arms made her look like a praying mantis. That inspired the name of the second solo.
External Links
Edit
Ad blocker interference detected!
Wikia is a free-to-use site that makes money from advertising. We have a modified experience for viewers using ad blockers

Wikia is not accessible if you've made further modifications. Remove the custom ad blocker rule(s) and the page will load as expected.