Amelia Lowe
Season
Season 9
Hometown
Butler, New Jersey
So You Think You Can Dance Profile
Partner(s)
Will Thomas
Placement
Top 14
All-Star Profile
Amelia Lowe was a contestant on season 9 of So You Think You Can Dance. Her genre is contemporary. She was eliminated on August 15, 2012.
Biography
Edit
Amelia grew up in Butler, New Jersey. She went to high school at the Academy of Visual and Performing Arts in Denville, NJ. Amelia first started dancing at the age of 3.
So You Think You Can DanceEdit
Amelia first auditioned for season 9 in New York City.
Main article: Season 9 performances
Meet the Top 20 (June 27, 2012)
Edit
Amelia is sent in with another dancer named Jill Johnson, who had an impressive journey through Vegas Week, unlike herself who struggled. Tyce tells the two they they have one girl spot left. He mentions that they're taking a risk by saying that they're looking for star quality, and the person who had that was Amelia. Tyce tells her she makes it through. She dances a contemporary routine with Janaya French, Matthew Kazmierczak, and Dareian Kujawa. The piece was danced to "Modern Drift" by Efterklang and choreographed by Stacey Tookey. Guest judge Zooey Deschanel praises Amelia by telling her that she looks like she's "been lit from within".
Week 1 (July 11, 2012)
Edit
In the package, the dancers must describe themselves in nine seconds. Amelia is paired up with Will Thomas and assigned a pop jazz by Tabitha and Napoleon D'umo to "The Lovecats" by The Cure. Guest judge Kenny Ortega praised Tabitha and Napoleon for their creativity and the mash-up of styles and thought the routine was fun, charming, and beautifully executed. Nigel tells them that personality is so important and that Amelia is quirky and crazy. He also tells them that this piece will certainly be a memorable routine from tonight. Mary praised Amelia for her style, calling her 'a quirky little vixen'.
Week 2 (July 18, 2012)
Edit
Amelia and partner Will danced a contemporary by Sonya Tayeh to "3326" by Ólafur Arnalds. Mary praises Sonya for the beautiful routine and tells the dancers that they brought the piece to life. She tells Amelia that she respects her individuality and her trust on Will. Guest judge Adam Shankman proceeds to give the couple a standing ovation. He praises Amelia, telling her she was completely lost in the piece and took him to the journey with her. Nigel appreciates the fact that Amelia fully got into character for the routine. He tells both Amelia and Will that they're lucky they got contemporary, each other, and a good choreographer.
During the results, Amelia was announced safe due to her hip-hop in Week 1.
Week 3 (July 25, 2012)
Edit
In the package, the dancers must reveal something America doesn't know about their partners. Amelia and partner Will danced a jazz by Mandy Moore to "You!" by The Creatures. Guest judge Christina Applegate praises the pair, telling them they are the dream team because they are both amazing and have great chemistry. Nigel disagrees, telling them he didn't feel at all and felt that they didn't really connect. Mary tells the pair that they did very good but it wasn't as good as the past routines they've danced.
During the results, Amelia was announced safe due to her contemporary in Week 2.
Week 4 (August 15, 2012)
Edit
In the package, the dancers must share their favorite moments from the show. Amelia shares that her favorite moment of the show was in Season 8 during a contemporary routine danced by Melanie Moore and Neil Haskell. This week's theme required dancers to perform past routines by Mia Michaels. Amelia and partner Will danced a contemporary to "Koop Island Blues", which was originally performed by Evan Kasprzak and Randi Evans in Season 5. Nigel tells Amelia that he wished she had showed more character. Mary praises the two, saying she liked it. Guest judge Billy Trevitt thought it was strong, endearing, and very musical.
During the results, Amelia found herself in the Bottom 6 due to her jazz in Week 3. She danced a contemporary solo to "Falling Slowly" by Glen Hansard and Marketa Irglova. After some deliberation, Amelia Lowe was eliminated from So You Think You Can Dance.
Post-SYTYCD
Edit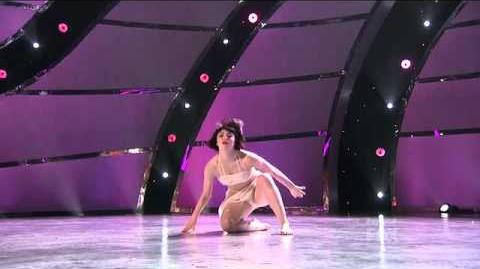 Amelia's father is a tattoo artist, although she doesn't have any tattoos, and her mother is a pilates instructor.
She is named after Amelia Earhart because her father likes to fly planes.
According to Will, Amelia stays pale by applying "SPF like 100" and she never lets the sun touch her skin.