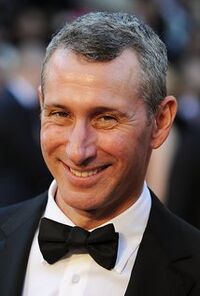 Adam Michael Shankman (born November 27, 1966) is an American film director, producer, dancer, actor and choreographer. He has been a judge on the television program So You Think You Can Dance since Season 3. He began his professional career in musical theatre, and was a dancer in music videos for Paula Abdul and Janet Jackson. Shankman also choreographed one of the Spice Girls' tours. He has directed several feature-length films, including A Walk to Remember, Bringing Down the House, and Hairspray.
Biography
Edit
Adam Shankman is a master of comedy and one of the most-loved and commercially successful filmmakers of his generation. His credits include "The 81st Academy Awards"; "The Last Song" starring Miley Cyrus; "17 Again" starring Zac Efron; "Hairspray," the feature film adaptation of the Tony Award-winning Broadway musical; and "The Wedding Planner" starring Jennifer Lopez and Matthew McConaughey. Prior to directing, Shankman was one of the premier dance and physical comedy choreographers for film, and choreographed music videos for Whitney Houston, The B-52's, Barry White, Aaron Neville, Chic and Stevie Wonder. A native of Los Angeles, Shankman attended The Juilliard School, and began his career as an actor and dancer in New York.
Ad blocker interference detected!
Wikia is a free-to-use site that makes money from advertising. We have a modified experience for viewers using ad blockers

Wikia is not accessible if you've made further modifications. Remove the custom ad blocker rule(s) and the page will load as expected.